MISSION DRIVEN PARTNERSHIPS
Services

Financing. Management. On Campus Development. We are your go-to-partner for campus infrastructure projects.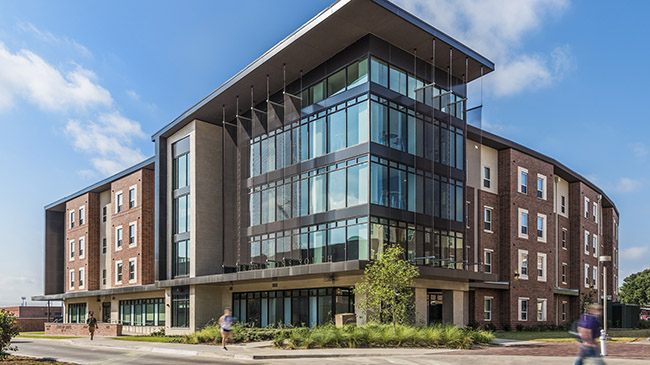 Balfour Beatty Campus Solutions offers a total, end-to-end solution for major campus infrastructure projects, including debt and equity finance, design, planning and project management, construction and engineering, and asset management, maintenance and operation. Our core strengths are the breadth of our capabilities, our fully integrated approach and our commitment to working in close partnership with our clients and partners. We bring a programmatic approach to our work, taking into consideration the client's total development plan and bringing creative solutions that extend well beyond student housing to encompass academic space, athletic facilities and other campus assets.
Financing

An important component of our offering is our ability to assemble unique capital structures to fund both large and small campus developments. As part of a long-standing, global investments company, we have successfully secured more than $2 billion in financing for college and university infrastructure projects.

Our extensive background encompasses a wide variety of financing arrangements, including conventional debt and equity structures, tax-exempt finance models, Balfour Beatty equity and client financing. We approach each project as a true collaboration, employing flexible solutions driven by the client's needs.

Development

We have wide-ranging experience managing the unique process of developing college and university infrastructure, from an individual building project to the execution of a comprehensive master development plan. Our capabilities extend well beyond student housing to include academic space, athletic facilities, mixed-use venues and more.

We manage all activities within both the pre-development and development phases, from initial program verification, including market studies and financial analysis, through conceptual planning and design oversight, to full-scale development and construction/financial management.

Construction

We bring industry-leading construction management expertise to our projects, working closely with all contractors to ensure our clients' goals and objectives are being successfully realized. Our team works closely and collaboratively with all contractors to carefully manage quality, cost, schedule and compliance, while maintaining ongoing communication with our client.

Pre‐Construction: Coordination and oversight of local approvals, code compliance, contract negotiation, value engineering, construction documents and scheduling

Construction Management: Manage and monitor budget and schedule; general contractor oversight; coordinate change orders; generate progress reports; coordinate meetings and other contract administration; work inspections

Post‐Construction: Coordinate inspections and other close out functions; lien releases; final transaction accounting

Property Management

We have the capability to deliver full-service property management for student housing as another integrated aspect of our offering. We are a leading provider of residential property management across the student, multifamily and military housing sectors, managing a portfolio of more than 48,000 units across the US.

Our teams are focused on delivering the highest quality living environment for their residents through superior customer service. We carefully tailor our management services to meet each property's unique needs and requirements, providing a boutique-style approach to property management. We manage every aspect of the property so our clients don't have to… from marketing and leasing, to staffing and facilities maintenance.