< Back to Articles
BB Campus Solutions celebrates grand opening of Bowie State Entrepreneurship Living Learning Community
August 18, 2021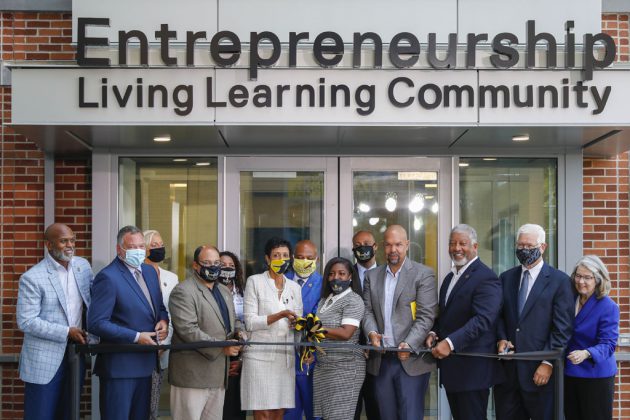 Last week, members of the Balfour Beatty Campus Solutions team traveled to Bowie, MD, to cut the ribbon on the company's recently completed project at Bowie State University.
The Entrepreneurship Living Learning Community will house 450 BSU students in addition to the university's Entrepreneurship Academy and Bowie Business Innovation Center.
Division President Bob Shepko was among the event's speakers, who reinforced the importance of the project and how much hard work and dedication went into it—about 16,000 hours, to be exact.
"This is a new beacon that sits here on the edge of the campus. It's a new community, not just a building," he said.
"It's a place where dreams will become a reality. Entrepreneurs will be grown. Residents will build friendships, and those friendships will last forever. So today, when we cut the ribbon, it's not just on a building. We're actually letting the heart and soul of the building into it."
To watch the recording of the ceremony, click HERE.