< Back to Articles
Balfour Beatty Delivers Student Housing Project at University of North Carolina, Wilmington
October 14, 2021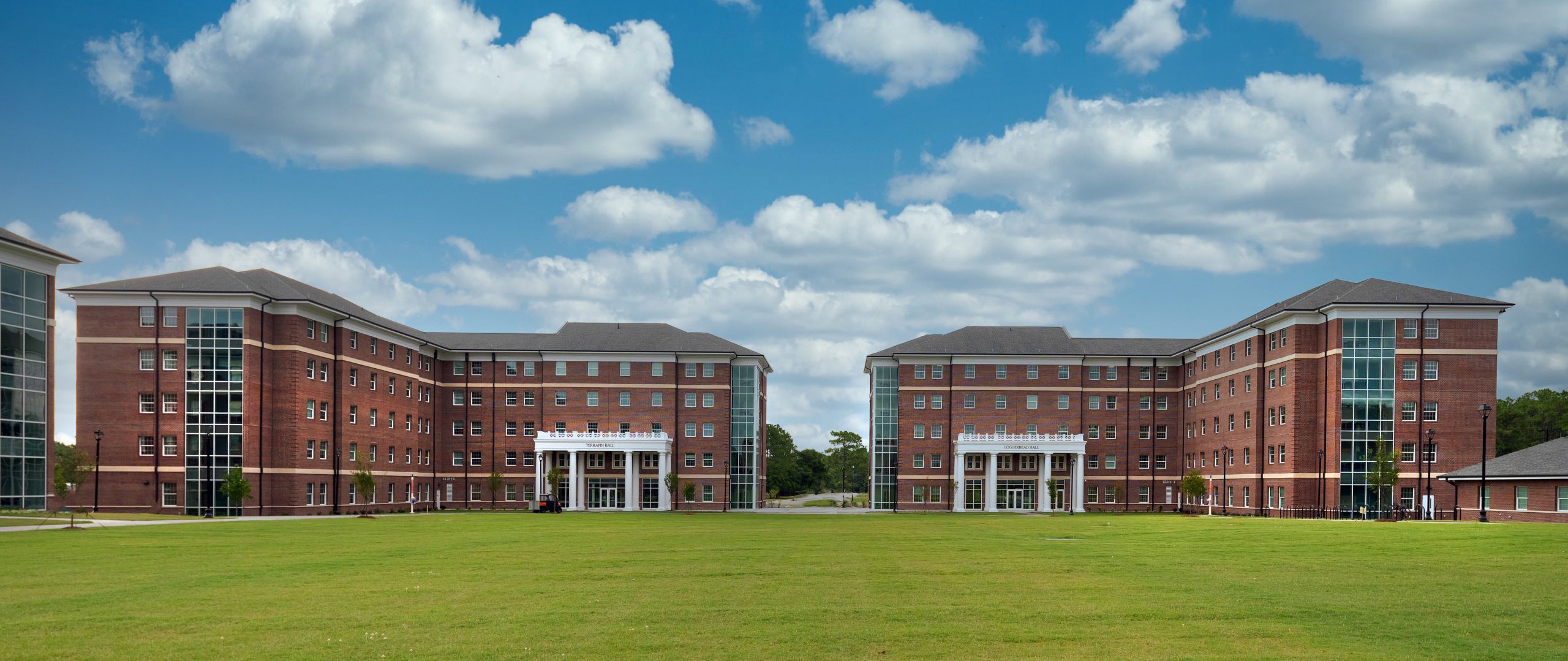 WILMINGTON, NC – Balfour Beatty's Campus Solutions and US Buildings operations has successfully delivered phase two of University of North Carolina Wilmington's (UNCW) Student Village. The successful completion of the public-private partnership (P3) project was celebrated at a grand opening ceremony attended by Balfour Beatty's design and construction and Campus Solutions team members, and UNCW leadership and staff.
 
UNCW's Student Village phase two project included the construction of 776 additional student beds and a student success center on the 409,722-square-foot development. Phase one of the Student Village was completed in Fall 2020 which included the delivery of 1,038 beds, a Port City Java coffee shop, and a convenience store. 
 
"We are excited to deliver this transformational project for UNCW in conjunction with our partners, including Balfour Beatty's US Building Operations," said Bob Shepko, division president for Balfour Beatty Campus Solutions. "This effort truly exemplifies what effective collaboration can create and the community wouldn't be what it is today without the contribution of all stakeholders."
 
Since its inception in 2012, Balfour Beatty Campus Solutions has developed more than $1.3 billion in student housing assets for colleges and universities across the United States, including the University of Iowa, Purdue University, and the University of Texas, Dallas. The company leverages its significant experience in public-private partnerships to deliver world-class housing options to its university clients while allowing them to maintain the financial flexibility needed to invest in future academic infrastructure.
 
For Balfour Beatty's US operations, the Student Village is the most recent initiatvies with UNCW. The long-standing partnership has delivered projects including its on-campus, 1000-space parking garage, the Allied Health Building, Dobo Hall, and the first phase of the Student Village housing project. Additionally, these projects were successfully delivered on time or ahead of schedule.  
 
"It was a collective team effort with our design partners, the university,  the State construction office and Balfour Beatty Campus Solutions to successfully deliver another project for UNC Wilmington," said Tony Stoneking, senior vice president of Balfour Beatty's operations in North Carolina. "We couldn't be more proud of what our team accomplished over the last three years, especially their resiliency in overcoming impacts from the pandemic and hurricanes. The construction of the Student Village is the fourth project our project team has successfully delivered since 2020 and we look forward to more opportunities to meet the growing needs of UNC Wilmington students and faculty."
 
Clark Nexsen Architecture and Engineering served as the design partner and Collegiate Housing Foundation, a national non-profit entity, is the project's residential facility owner through an issuance of project-based, tax-exempt debt financing.